The New York Fashion Week Fall/Winter 2023-2024 collections were held for six days from February 10 to February 15, 2023.
New York Fashion Week opened with Rodarte's runway show, and a total of 74 brands presented their latest collections during the period. This season was also the first Fashion Week since Thom Browne became the president of the Council of Fashion Designers of America (CFDA), and his brand, Thom Browne, presented its collection in New York for the first time in many years.
Marc Jacobs and Alexander Wang also held their fall/winter 2023-2024 collections off-schedule and it was a week in which the city of New York was filled with the vibrancy of fashion.
Below are highlights of the latest collections from each brand shown at New York Fashion Week.
Marc Jacobs
Marc Jacobs presented its Fall/Winter 2023 collection on February 2 ahead of the official New York Fashion Week schedule.
The brand has been presenting only digital collections for the past few years since its last show in February 2022, but this season it made a comeback to a physical runway show for the first time in about three years. This collection, titled "Heroes," is a tribute to British designer Vivienne Westwood, who passed away last December.
True to his word, the collection was infused with the same style that Westwood once loved. Models walked nonchalantly in high-heeled platform shoes with their arms crossed in the spotlights shining in the pitch-dark venue. Garments were bleached, denim, canvas, faux fur, patchwork, and crushed velvet, reminiscent of the punk movement of old.
On the show note, Jacobs said, "With the turn of another season in our endless search for value, importance, and possibilities, it is through these collections that we continue our ever-expanding notions of beauty and craft," "With a controlled abandon and driving frenetic energy we reflect on life beyond the studio."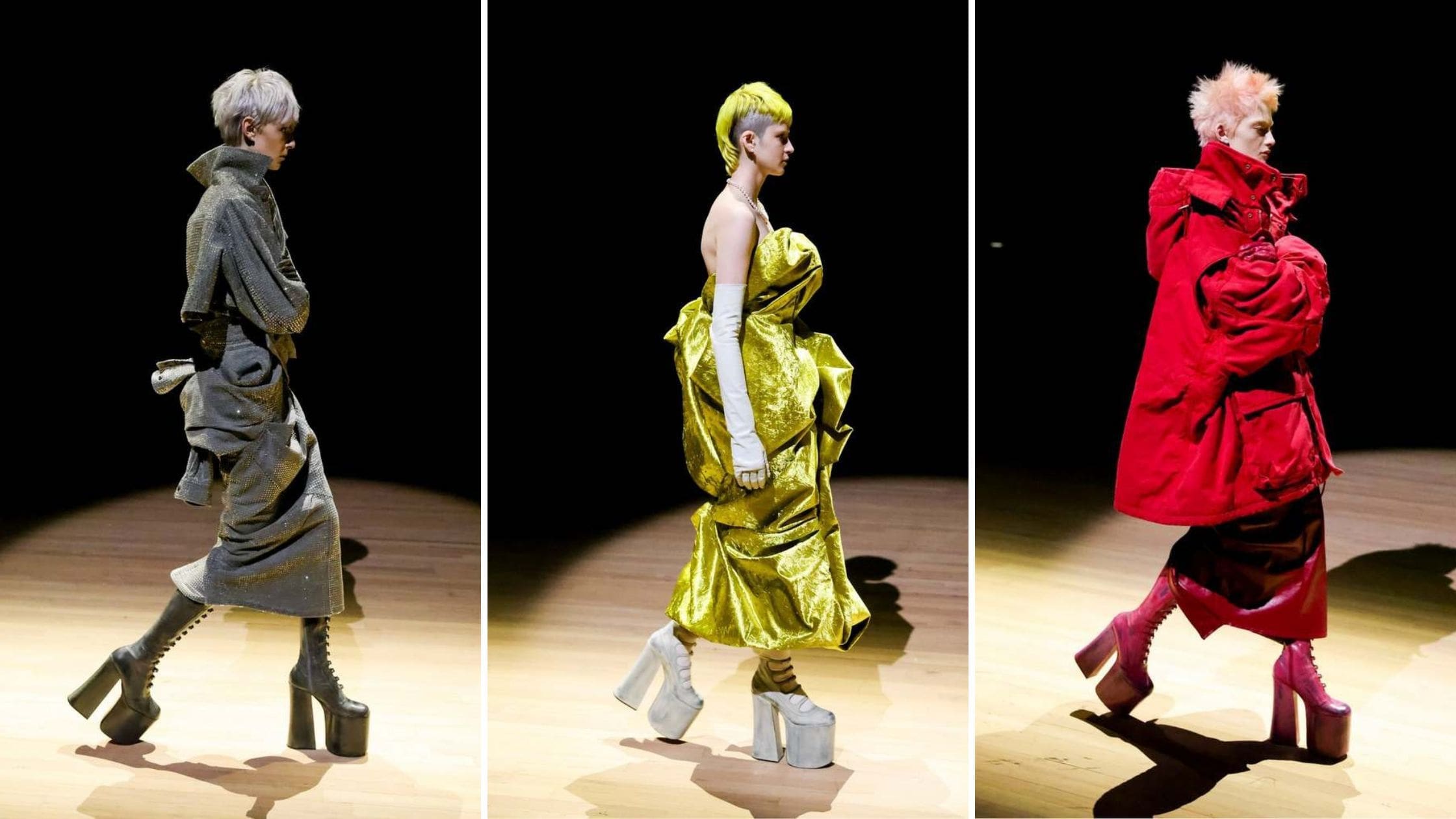 See all looks from the collection: Marc Jacobs Fall/ Winter 2023
Rodarte
RODARTE's Fall/Winter 2023 collection was truly a mesmerizing silver display that blended creativity and artistry. The show venue was Williamsburg Savings Bank. Designers Kate and Laura Mulleavy drew inspiration for this season from the "fairy world," which was well reflected in the whimsical designs that walked the runway.
The collection featured glamorous evening gowns and pieces that blended dark and romantic elements. The show opened with a series of dramatic bell-sleeved jersey pieces. Leading the beautiful fusion of classic and contemporary pieces were gothic fairies in Siouxsie Sioux-inspired eye makeup and black lipstick.
Also featured were burnout velvet with sequins and floral appliques, and black satin dresses with Victorian detailing. Beaded fringe slip dresses with oversized black velvet sleeves drew attention.
The finale featured four models shaped like bulbs with metallic fringe, a testament to the designer's creative approach to constantly improve the collection and make it more reflective of their unique style.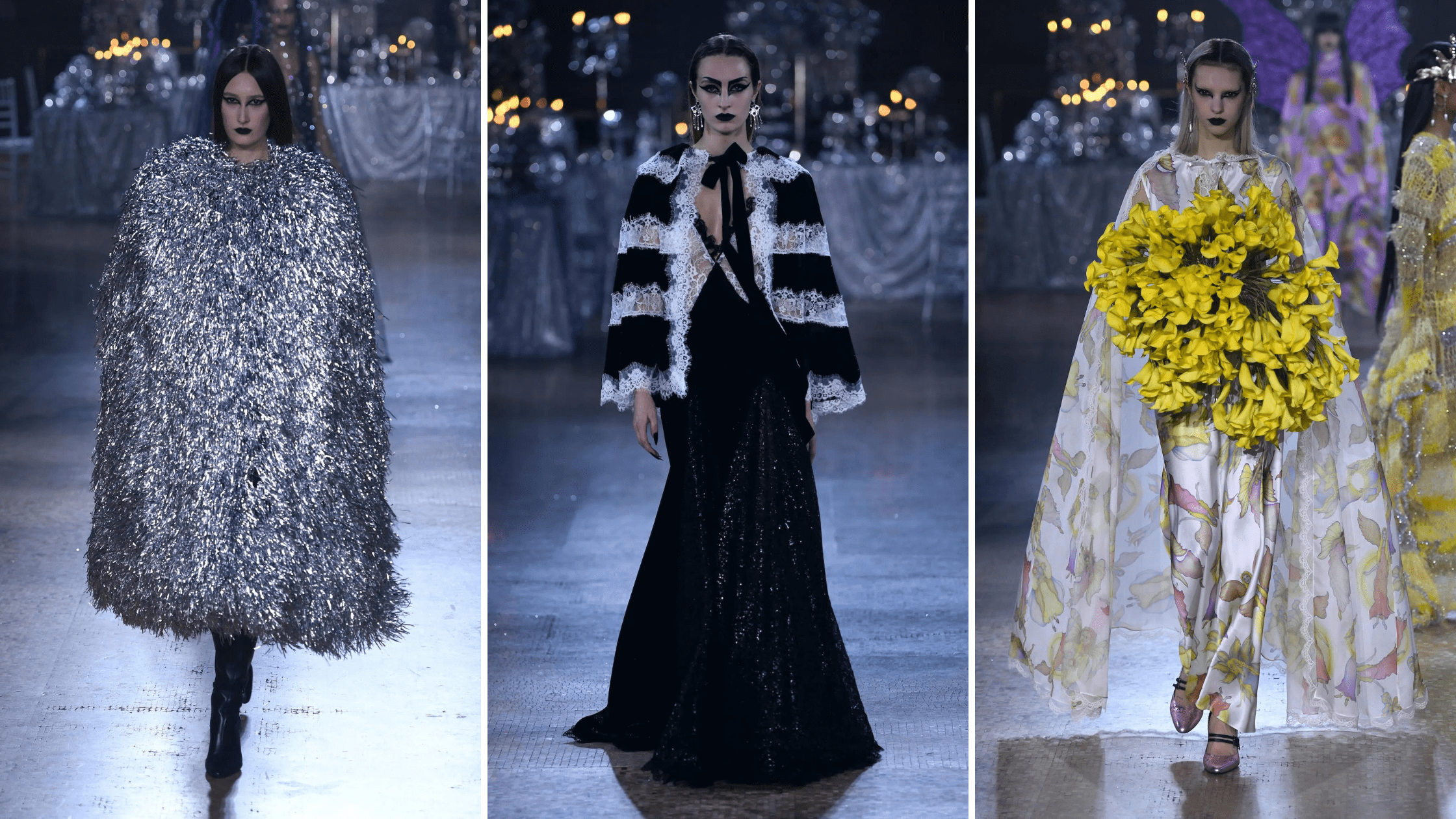 See all collection looks: RODARTE Fall/ Winter 2023
COLLINA STRADA
Corinna Strada, led by Hillary Taymor appeals for social messages such as sustainability, inclusiveness, accessibility, and animal rights through fashion.
For the Fall-Winter 2011 collection, under the theme of "Please Don't Eat My Friends," models dressed as animals with special make-up strutted down the runway in the guise of animals. The special makeup, including artificial noses, whiskers, and beaks, was applied by British makeup artist Isamaya Ffrench.
As always, sustainable and deadstock materials were used in the collection, with colorful satin pop star dresses, shirred tops, floral organza layers, velvet cargo pants, and other looks favored by the brand's Gen-Z fashionistas. Soft satin suits with floral cut-outs, teardrop collar shirts, checked crushed velvet, deadstock checked pants and coats, and patchwork flannel also added sophistication to the collection.
In collaboration with Italian manufacturer Vitelli, Taymor presented recycled yarn knitwear, flap hats, and animal tails; and with Vans, she presented a pair of slip-on sneakers.
The show was a playful expression of Taymor's ideal of "eliminating the boundary between animals and humans in all aspects of clothing, makeup, and the runway walk so that all living things on earth are equal."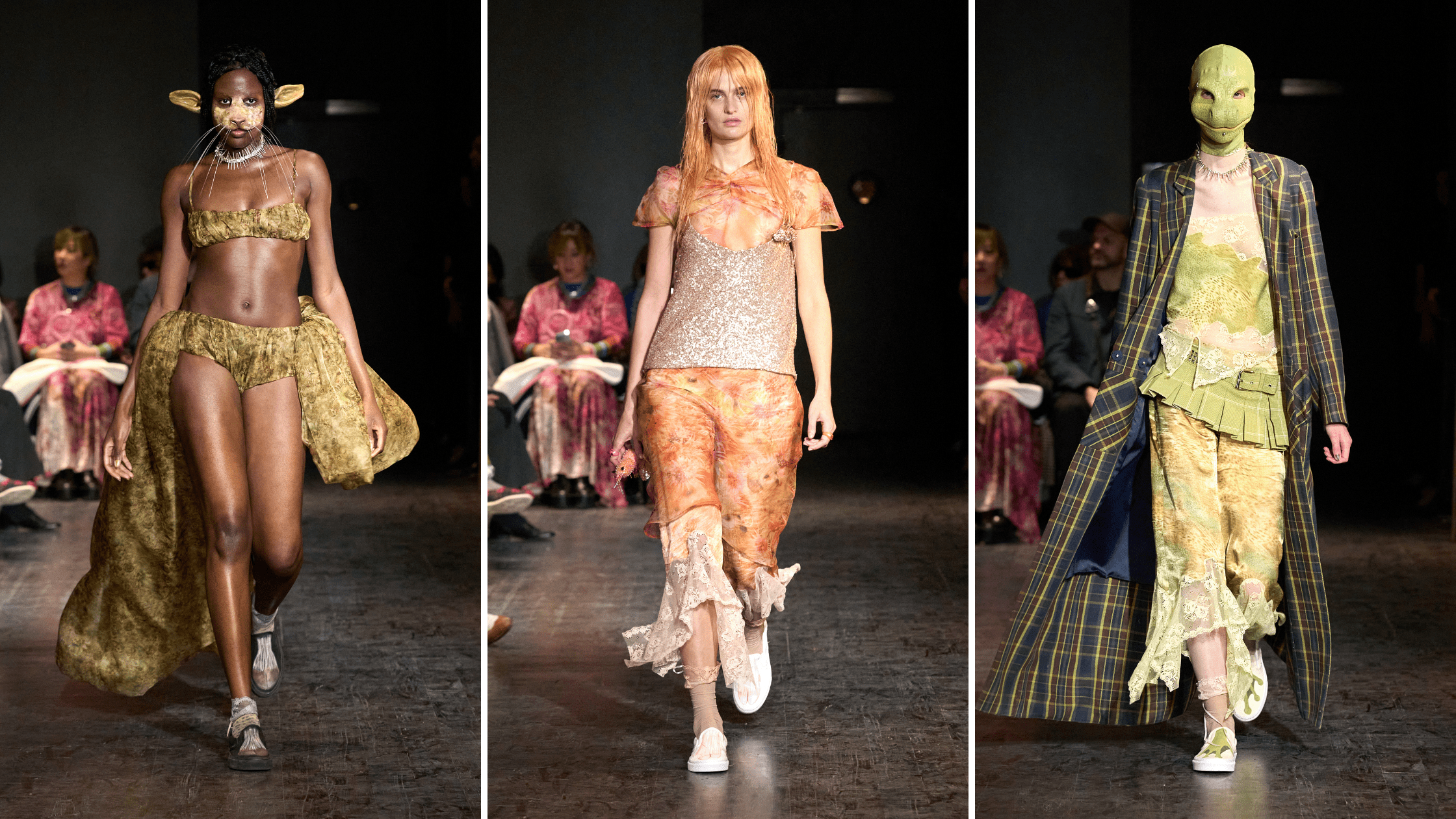 See all looks from the collection: COLLINA STRADA FALL/WINTER 2023
Coach
One of the hottest brands at New York Fashion Week 2023 was Coach. This season, the brand focused on classic elements, showcasing shearling, leather, and denim in fun proportions and shades.
The show, held at the Park Avenue Armory, featured distressed knit dresses, double-breasted trench coats, denim silhouettes, and edgy leathers, showcasing the collection's modern blend of American heritage and signature codes. Brand staples such as trench coats, voluminous sheers, maxi skirts, and floor-length silhouettes were further refined, refreshed, and youthful. Fluffy outerwear and reintroduced shearling also caught the eye.
Creative Director Stuart Vevers said that the Fall collection was born out of the belief that only by showing your true self as you are can you inspire others.
Notable in this collection is the expansion of "Coach (Re)loved," Coach's unique circular eco-system that recycles, rebuilds, and reuses its own bags. This season, the collection features remade leather sneakers with uppers made from used Coach bags that have been repurposed. Other pieces include heritage outerwear made from discarded leather scraps and colorful silk chiffon slip dresses naturally dyed with natural plants, each piece designed to minimize waste.
In the accessories department, bags in signature patterns and colorful patent leathers, such as the "Penn" pouch inspired by Coach archive pieces from the 2000s, were on show.
The latest Coach bag, "Shapes," with playful designs such as hearts, stars, and large apples, also radiated loveliness. In addition, Coach's legacy of leather craftsmanship was also presented in the form of oversized leather totes in vegetable-tanned leather.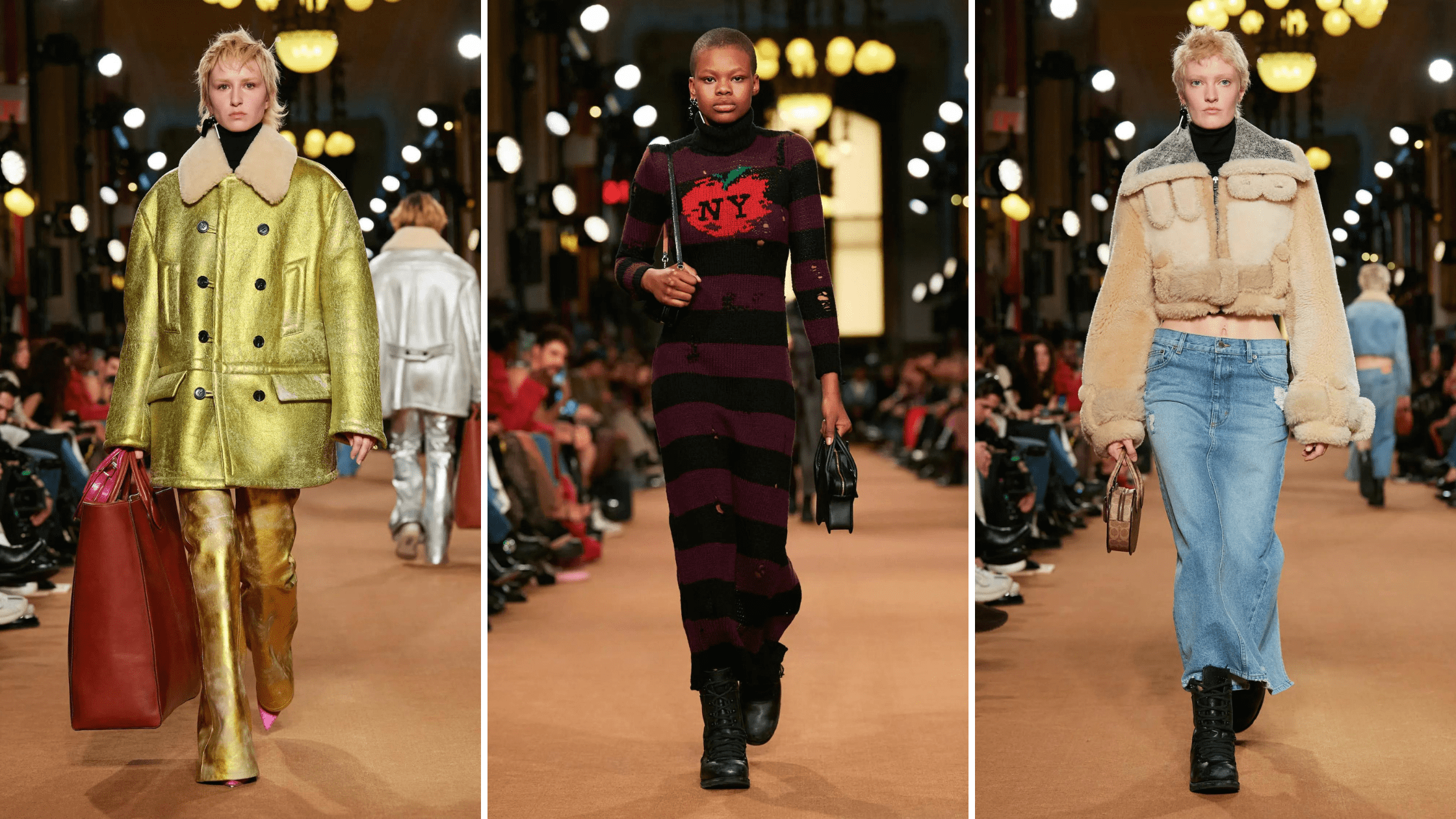 See all collection looks: COACH Fall/Winter 2023
Tory Burch
Tory Burch's Fall/Winter 2023 collection subverts traditional wardrobe concepts and re-invents the idea of perfection with an undone attitude. The theme is to embrace your style with confidence. "Women aren't interested in rules, and every piece is designed to be endlessly mixed, layered and individualized," said designer Tory Burch.
The collection, with its essential silhouettes in muted neutrals and primary colors, exudes strength, confidence, and class, and includes oversized padded suits, mesh dresses, slouchy sweaters, lapel dresses, bootcut pants, and silk button-down blouses. and more. In addition, details that would normally be hidden, such as lingerie, innerwear construction, and safety pins, are exposed on the surface.
True to its "undone" theme, the handbag is adorned with a sharp metal logo "hanging" from the handbag and an asymmetrical "sliced" logo on the square-toe heel. In addition, the classic pumps were also adorned with a single "broken" stiletto heel, emphasizing the beauty of imperfection.
This elegant and classy Tory Burch Fall/Winter 2023 collection embodied the modern wardrobe needed by today's women that can be mixed and matched for any occasion.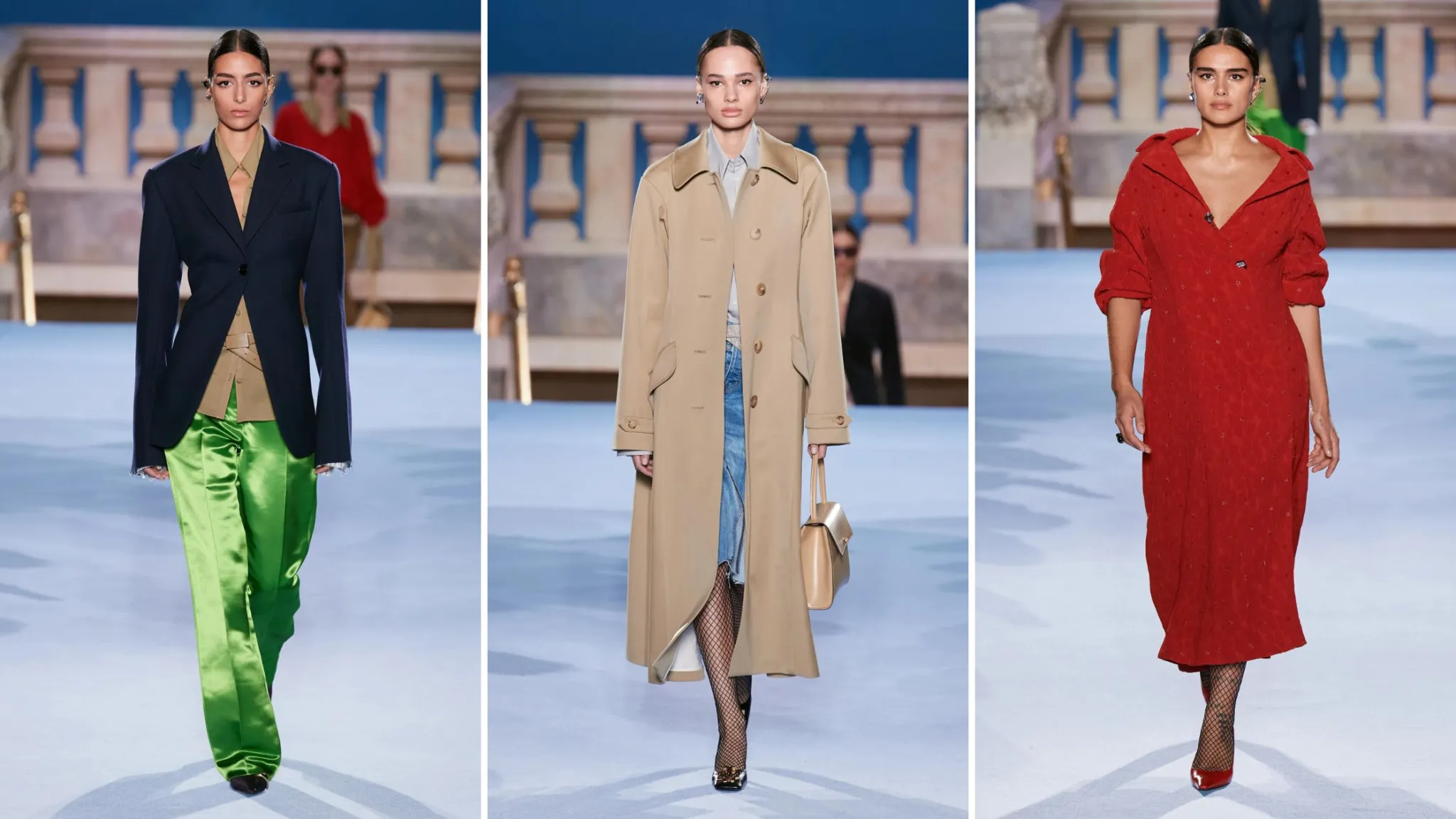 See all looks from the collection: Tory Burch Fall/Winter 2023
Thom Browne
Few brands have told a story as fantastical and enchanting as Thom Browne. Its Fall/Winter 2023 collection was so grandiose and full of fantasy that guests at the show felt as if they had wandered into another world.
The show venue in The Shed at Hudson Yards was set up as if a huge plane had crashed in the middle of a round runway covered with sand. The sound of a ticking clock could be heard overhead, and a crash-landing pilot in an aviator suit and a prince clad in gray flannel tweed appeared like a wanderer lost in the desert, suggesting Saint-Exupéry's "The Little Prince." He was followed by a figure seemingly from another planet, dressed in a white floor-length column dress embroidered with planets, stars, and wine glasses, with long, curly nails and a futuristic headpiece.
Notable in the collection was Brown's signature "reimagining" of the suit. Carved, reshaped, and fused, the collection featured several inventive suits with unconventional draping and puffy, oversized shoulders. Shooting stars were embroidered by hand on pinstriped wool flannel suits, shirts, and dresses, and some classic shapes were turned upside down or inside out. Overall, astronaut boots represented the line's otherworldly mentality. In the accessories department, there were also mini-trunks in the shape of watches, with watches embedded directly into the body of hector bags and the heels of shoes.
As the show drew to a close, Precious Lee appeared as an angel, scripted to rescue a prince who had fallen to the ground in a melancholy of lost love. Each of the models also became a couple and marched slowly down the runway to Josh Groban's "You'll Never Walk Alone."
In the finale, Brown appeared clutching a heart-shaped box of chocolates. He was headed to Andrew Bolton, curator of the Metropolitan Museum of Art's Costume Institute and Brown's partner. As Brown handed the chocolates to Bolton and left the runway, the entire audience was smitten with the conclusion to this Valentine's Day-inspired love story.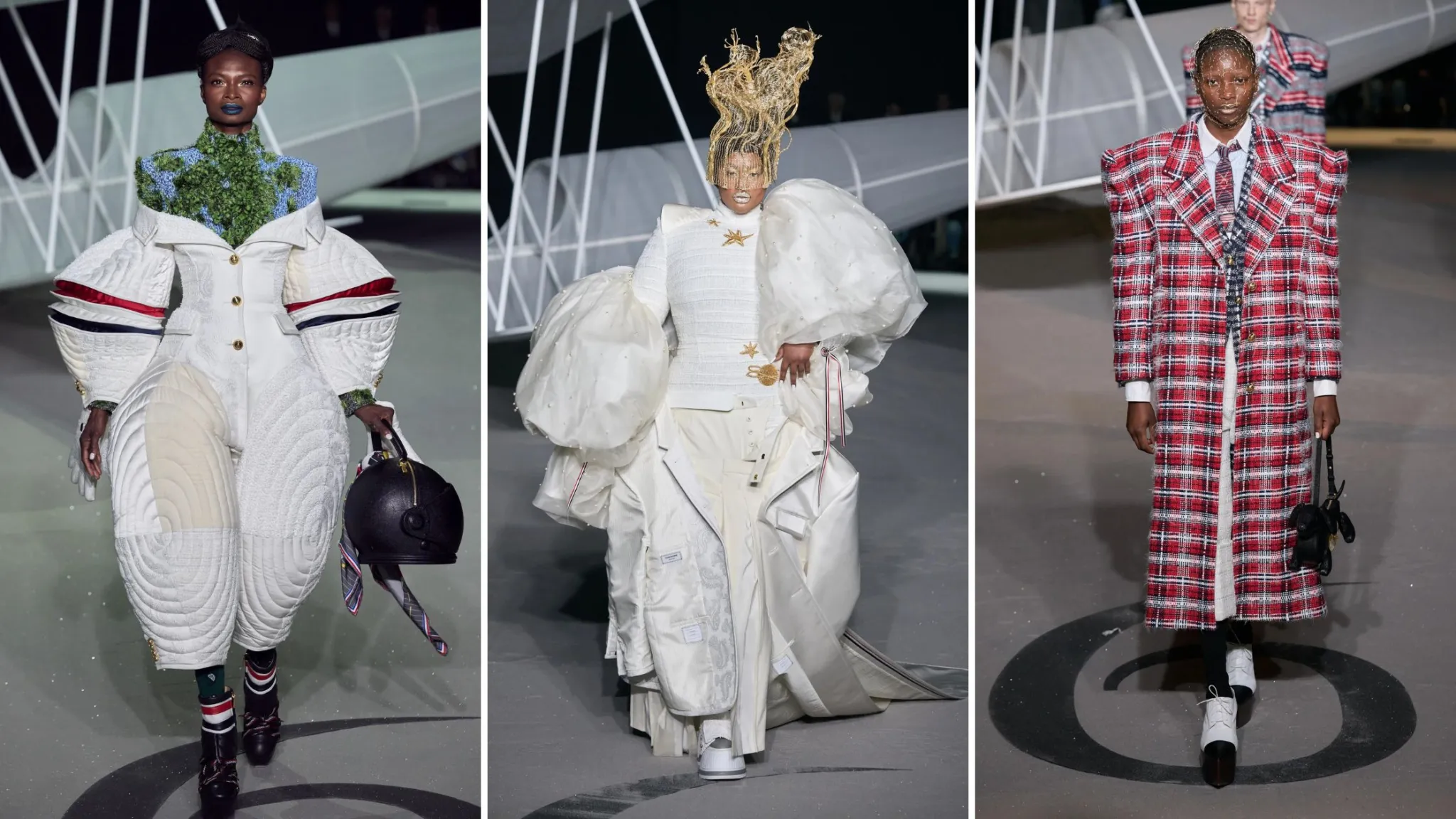 See all collection looks: Thom Browne Fall/Winter 2023
Adeam
Hanako Maeda, CEO, and creative director of Adeam, expressed the teenage angst in its Fall/Winter 2023 collection. The collection was inspired by the bands she listened to in the early 2000s, such as Green Day and Blink-182.
The women's looks that appeared in the collection were a perfect blend of punk rebelliousness and Y2K's playful, eclectic style, with the romantic mood that only Adeam can create. Textures and patterns abounded: faux leather, plaid, gothic lace, tulle, and velvet.
In the middle of the runway show, Japanese rock star Miyavi appeared on stage. He gave an impressive solo guitar performance and modeled the first look of "ADEAM ICHI," which was presented as the second part of the show. ADEAM ICHI" is a gender-neutral line newly added to the brand this season. It offers size-inclusive items that can be worn without being restricted by gender and is characterized by a relaxed, oversized silhouette.
The show featured a variety of standard items such as hoodies, knit cardigans, and striped shirts that emphasize comfort, as well as a number of fun casual wear items such as puffy vests and ponchos, infusing the brand with new creations.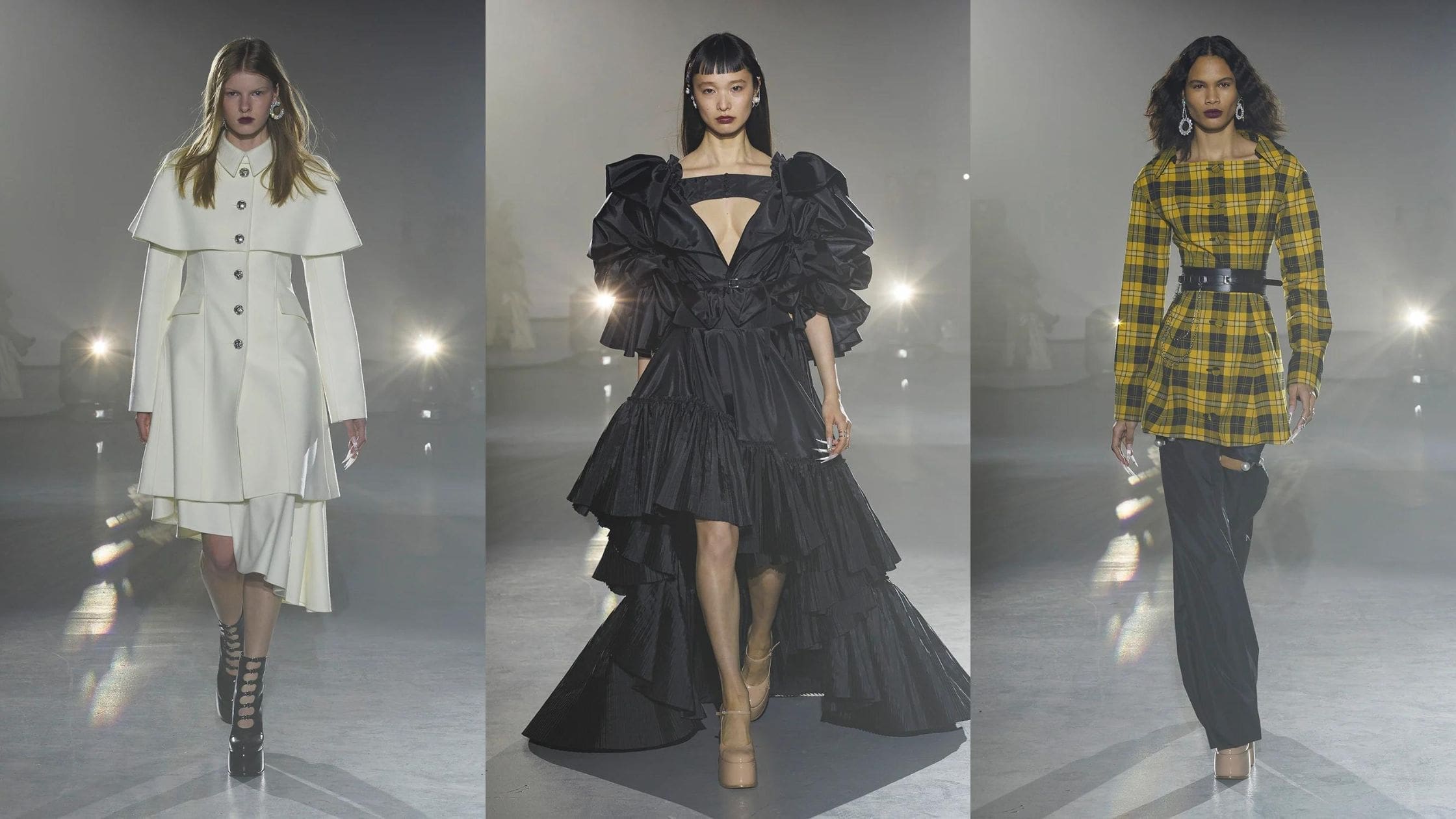 See all collection looks: ADEAM Fall/Winter 2023
Alice+Olivia
ALICE + OLIVIA BY STACEY BENDET presents its Fall/Winter 2023 collection, celebrating the innovation, glamour, and coolness of American fashion in contemporary history.
The collection, titled "American Icon: Fashion through the decades," fused the various worlds of American fashion and reimagined them in a modern, cool, and exciting way. The presentation, held at the High Line Stage in Manhattan, featured American ball gown skirts and corsets of the 50s, chic bouclé of the 60s, bells, and brocades of the 70s, grunge of the 90s, and striped sportswear of today. styles that explored fashion history, culture, style, and creativity were created along with its worldview. Bendet said that it's a celebration of the intersection of American tradition and fashion and celebrated the new form of American fashion that the brand has put forth.
Also in attendance were many celebrities and influencers, including Nicky Hilton, Adrienne Bailon, Coco Rocha, and Kylie Rogers. The girls wore diamond- and pearl-studded tops with denim, jeweled hair couture, lace, tweed, leather, and unique handbags inspired by iconic American snack brands and other high and low, elegant, and intoxicatingly wearable items.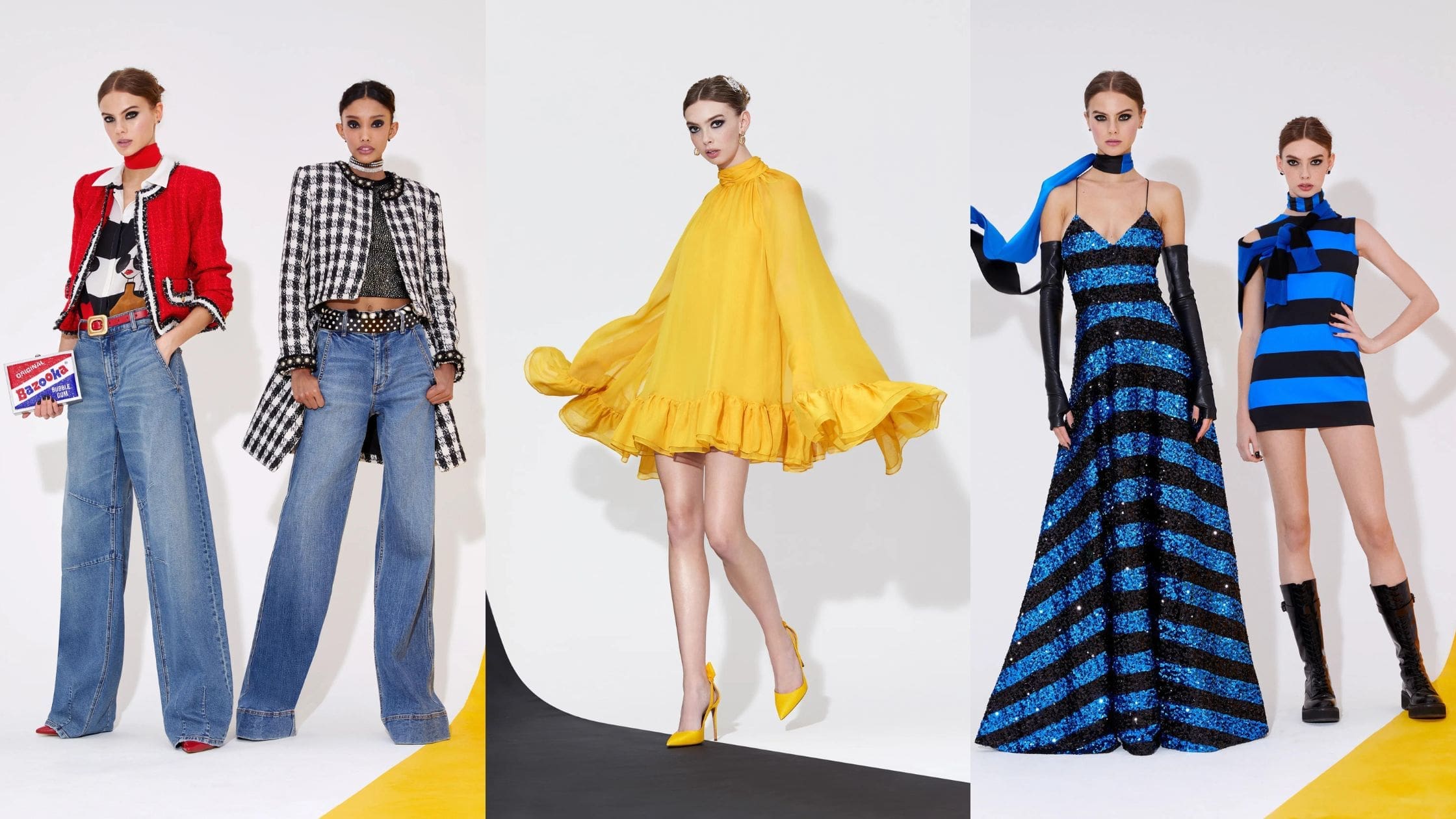 See all looks from the collection: Alice + Olivia Fall/ Winter 2023
Alexander Wang
Alexander Wang presented its Pre-Fall/Fall 2023 collection on February 8, earlier than the official New York Fashion Week schedule. This collection was held in three parts, combining the women's pre-fall, the fall, and a newly-relaunched menswear line.
The venue for the collection, dubbed "Cupid's Door," had a decidedly sensual atmosphere, with dusty pink velvet curtains, a seductive zebra-striped carpet, and pink lighting throughout the room.
The women's section, which opened the runway, featured denim in different textures and silhouettes, bold faux fur, and pieces with animal prints such as zebra and crocodile. In addition to those, crisp jackets also made an appearance, giving a somewhat formal impression.
The next men's section featured athleisure-style items such as sweatpants and sweatshirts in soft high-pile fabrics alongside cropped vests and animal-print pants. Although casual, they seemed to express a sensuality that was second to none in the women's section.
The final women's section featured silk fringe dresses sewn over ultra-thin netting. Dangling long from the bust, the fringe dress was reminiscent of a show from 2011, when Wang was at its peak.
Designer Wang overcame his own flames and held his first runway show in New York in several years, and the guests warmly welcomed him back.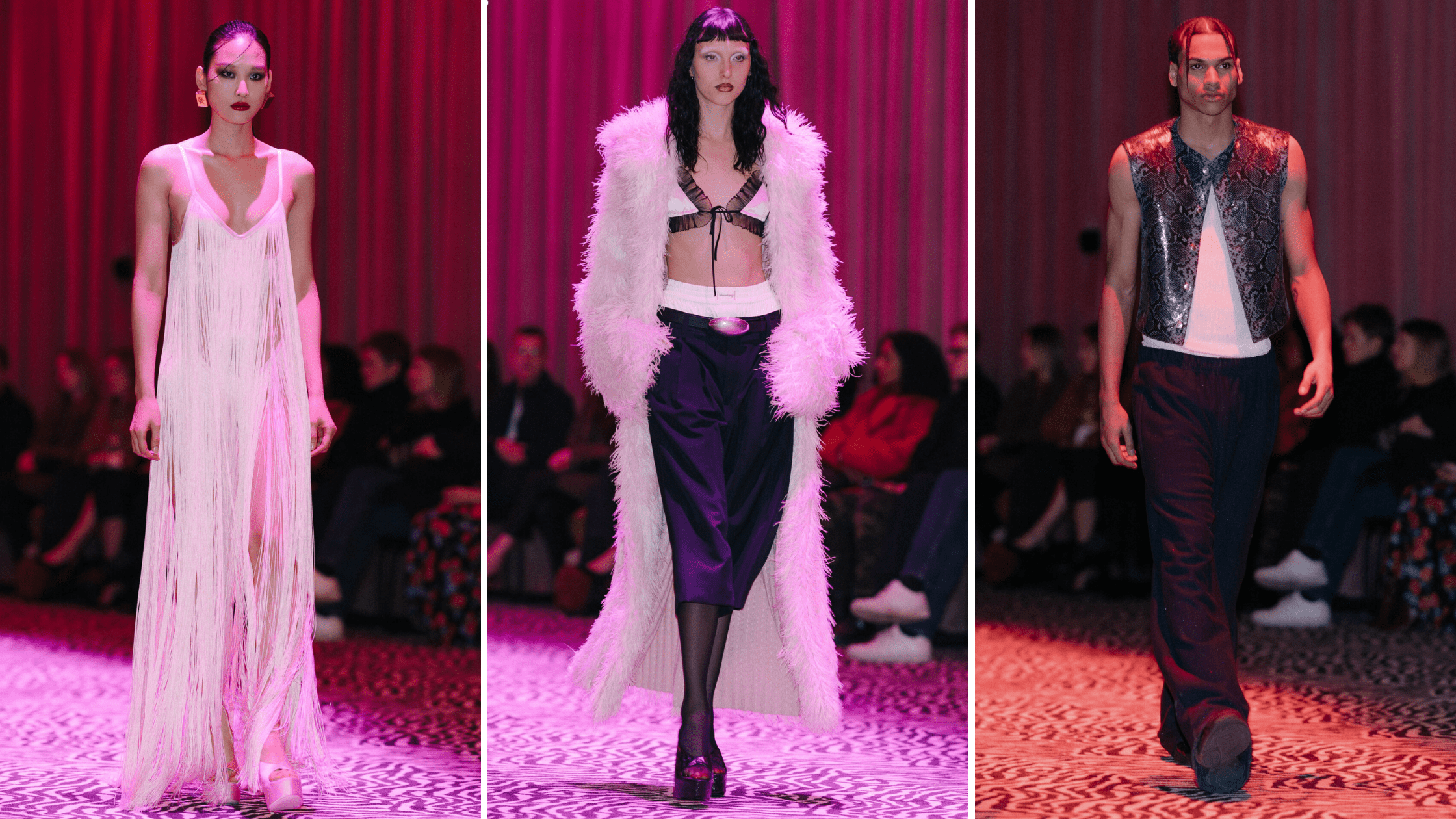 See all looks from the collection: Alexander Wang Fall/Winter 2023
Michael Kors
This season, Michael Kors presented a classic 70s-styled Fall/Winter 2023 collection, including fringed dresses and retro suits. The collection was inspired by powerful women of the time, including Tina Turner, Jane Fonda, Gloria Steinem, and Kors' own mother.
The show featured the classic New York style of the 70s, with overcoats, thick leather belts, bell sleeves, dramatic bell-bottom pants, oversized sunglasses, suede boots, and fringe. The color palette of the looks was based on soothing shades of black, gray, and brown, offering a chic style favored by independent women working in the city. In addition to this, many of the looks had fringe details and Greenwich Village inspiration, further blending and expressing a city-inspired sophistication with a deep bohemian feel.
The lightweight power suits also incorporated slits in the women's blazers to give movement to the sleeves. The entire collection was kept in neutral tones but added sparkle with glittering silver bell-bottom jumpsuits and shimmering black capes.
Closing the show was actor Molly Ringwald. Wearing an eye-catching sparkly black cape, Ringwald said she appreciated how Kors' clothes could be worn by any body type.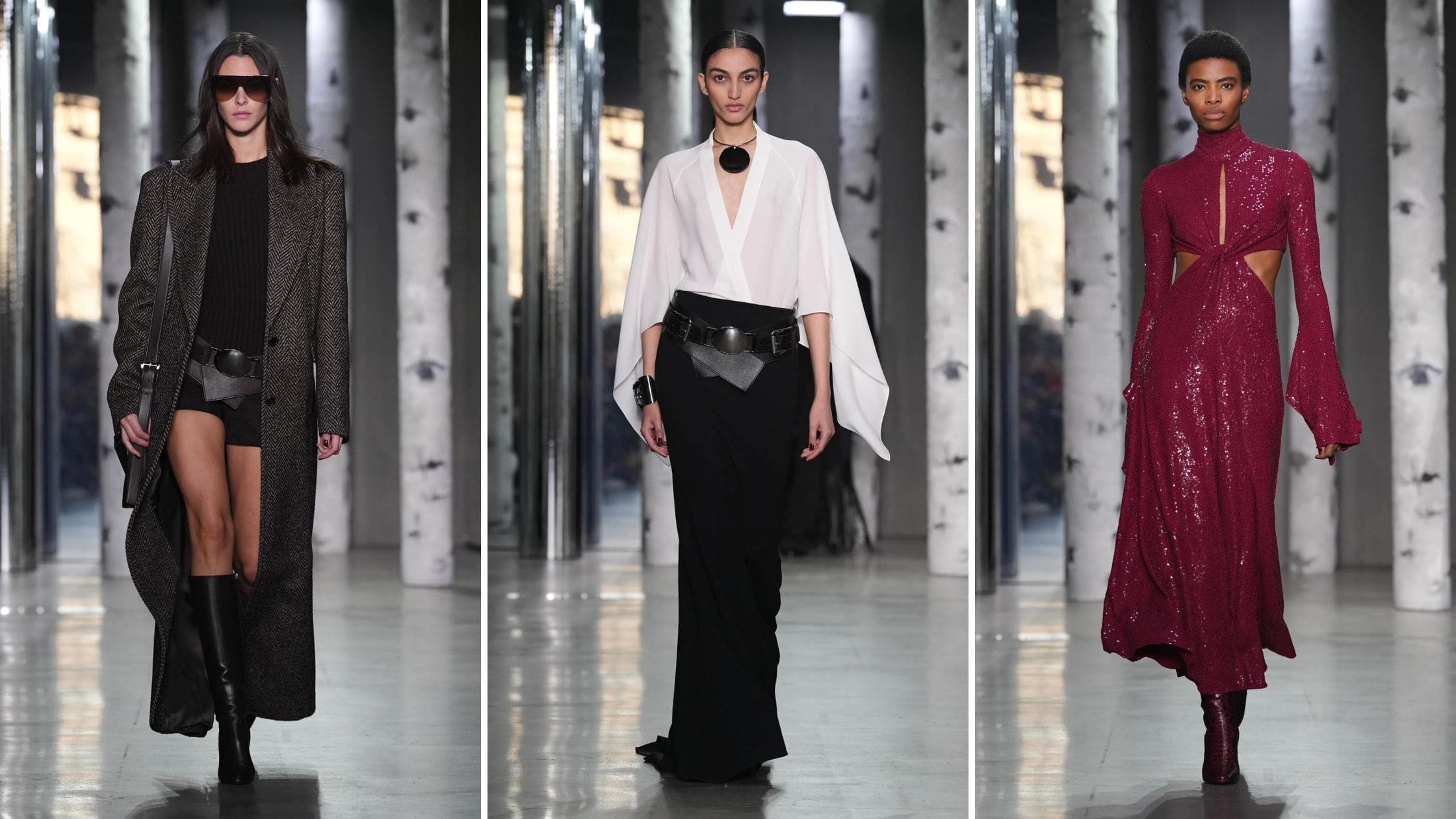 See all collection looks: MICHAEL KORS Fall/Winter 2023