On March 22, the Taipei Fashion Week for Autumn/Winter 2023 kicked off with a bang.
The venue for the opening show was in front of the "Nankunshen Daitian" Temple located in Beimen District, Tainan City; one of the oldest and most historically important temples in Taiwan with a history of over 300 years. The gracefully illuminated "Nankunshen Daitian" Temple in the calm serenity of the Tainan night heightened the anticipation of the upcoming show as well as the excitement of the audience.
Culture and fashion fused in the opening show
Taipei Fashion Week began in 2018, and each season's opening show is based on a different theme. The theme for this year's opening show was "CrossLab: Dialogue Between Traditional Performance, Craftsmanship, and Fashion," and fashion designers presented innovative designs that fused the inherited culture of Taiwan.
Minister of Culture – Mr. Shin Che(史哲)said he hopes that the fusion of Taiwan's traditional art and culture, which has been handed down for more than 100 years with modern fashion will help to promote Taiwan's cultural content to the world and bring Taiwan's designer clothing into the everyday sphere of the general public.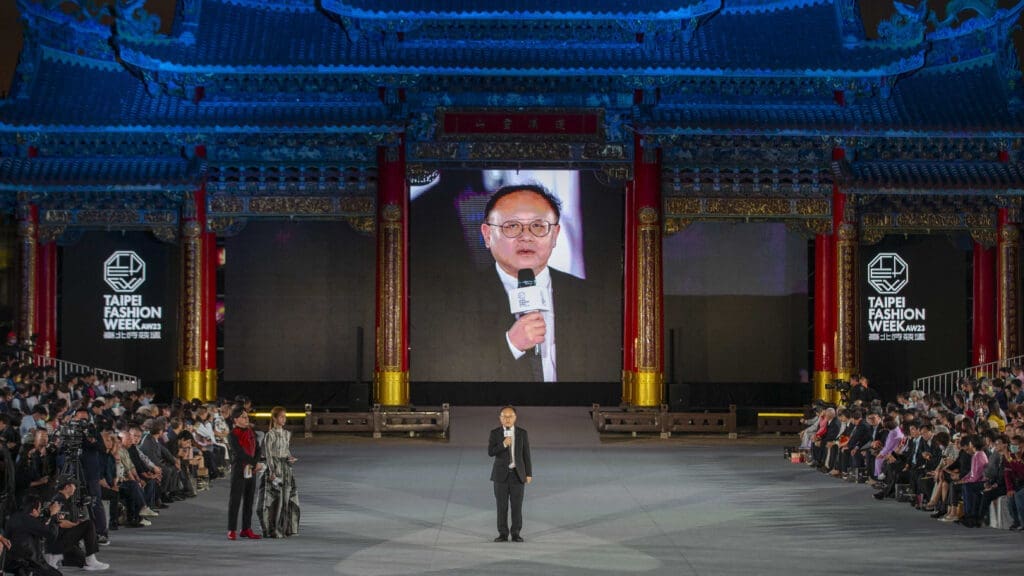 At the opening show, a member of the J-Pop group EXILE and Taiwanese top model Lin Chi-ling's husband, AKIRA appeared as a VIP guest. In his opening remarks, AKIRA said that we sometimes hold events in historical buildings such as Kiyomizu Temple in Kyoto, Japan, but he has never participated in such an event in Tainan before, so it was a great honor to be a part of it and the scale of the event is very spectacular. In the interview that followed, he reiterated that Tainan is a special place for him since Tainan is his wife's hometown, it is like his second home as well.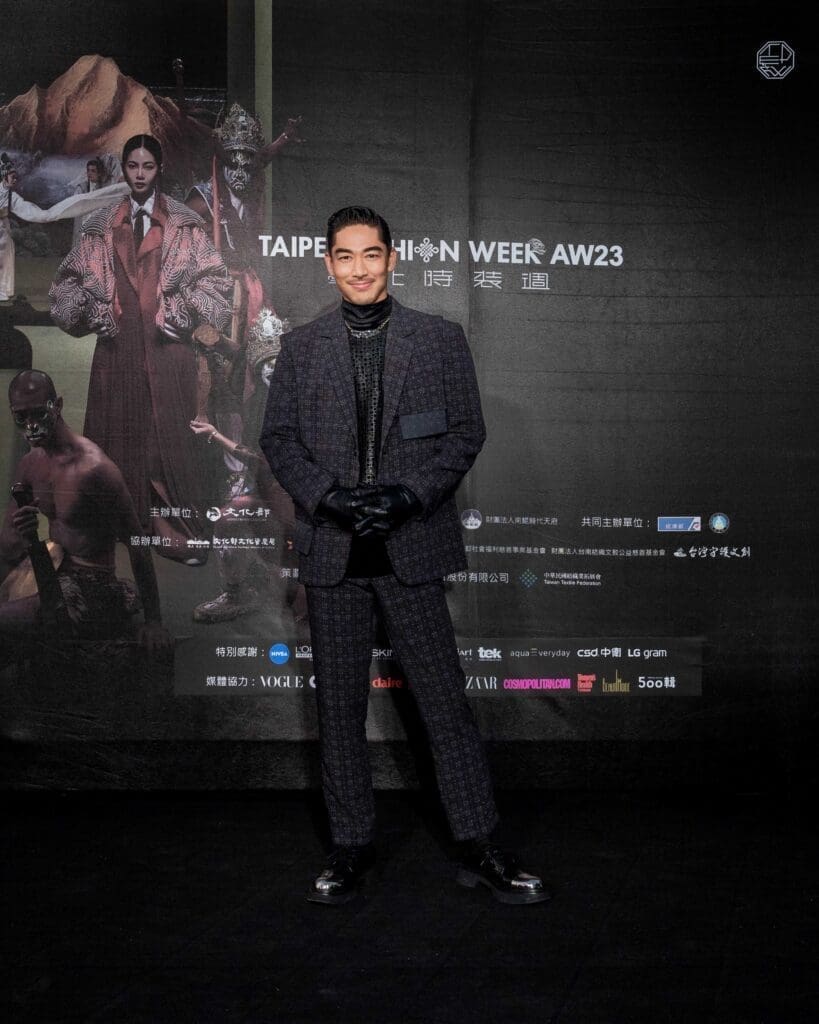 The opening show featured seven fashion designers and seven traditional artisans, each presenting ten garments, with background music of contemporary electronic music mixed with traditional lion dance performance and traditional music.
The first show was a collaboration between designer BOB JIAN, who specializes in stage costumes and high-end custom-made pieces, and the Taiwanese folkloric dance performance group "The Eight Generals (Bajiajiang)," Zhen Shou Temple Wu Jing Tang Folk Parade Club. The first half of the show featured powerful dances and performances by the traditional "The Eight Generals," while the second half featured models sashaying through the performers' dances to showcase their collection.
The collection included a suit with a yellow and black tiger pattern with red as a color insert, a white blazer with oversized armor-like shoulders and a dress with a black layered skirt with a front opening in the center, and a bright blue asymmetry coat. The designs for each piece were completely different, but each had an avant-garde futuristic feel that was inspired by the costumes of "The Eight Generals." In addition, several looks in the collection featured  "god crowns" worn on the head by "The Eight Generals" in their performances. They looked like insect's long antennae attached with colorful pompom decorations on their heads; which further brought out the "character" of the collaboration with traditional Taiwanese performing arts.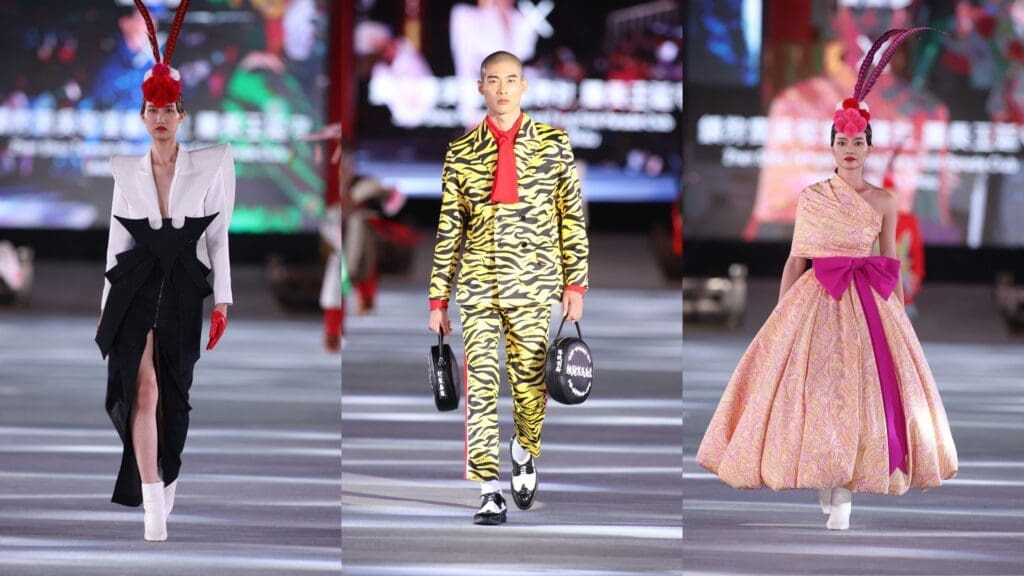 WEI TZU-YUAN presented work in collaboration with traditional and creative knotting – CHEN Hsia-Sheng. The collection used a lot of neon color strings such as pink, orange, green, and purple which were packed into a single garment. These braided strings were made from recycled plastic bottles integrated with sustainable considerations. By attaching and weaving the strings in a linear fashion, each costume was accented to create a spiritual and fantastic world.
The show by Tung-Hua Shadow Puppet Theater, a shadow puppet troupe registered as an intangible cultural asset, and TANGTSUNGCHIEN began with a shadow puppet performance inside a truck. A large truck suddenly arrived at the venue and opened its side to turn itself into a stage for the shadow puppet performance. The theme of the play was a series inspired by the "Journey to the West". The collection included a three-dimensional skirt, a dress painted with Chinese letters from 80 years ago on the entire garment, formal suits with characters from the play, and vivid looks incorporating colors and sculpting techniques from the play.
The centerpiece of the event was a collaboration between Traditional Temple Painting – ZHUANG Wu-Nan and JUST IN XX. JUST IN XX is known as a talented fashion brand that has participated in New York Fashion Week in the past, collaborated with NIKE and Converse, and designed the official uniforms for the Taiwanese national team in the 2021 Tokyo Olympics. On the day of the opening show, Taiwan's Vice President Lai Ching-te and AKIRA also attended the event wearing the brand's outfits.
The brand's creative director Justin, Yu-Ying CHOU describes the inspiration for the collaboration with Zhuang Wu-Nan as "the fantasy experience when a group of junior high school students went to a temple to worship sky lanterns and accidentally became possessed by the gods." Inspired by his experiences at the temple during his school days, he has created a street punk collection that incorporates school uniforms and temple art elements. The student look of uniform shirts, lantern skirts, sports shirts, and baseball jackets was combined with temple paintings of gods, dragons, tigers, and gourds in addition to elements favored by teenagers, such as cartoon screen tones, radiation patterns, waves, and checkerboard patterns, to create a unique and elegant design that blends sky lanterns and temple architecture.
In the finale, models walked around with their hands outstretched in huge gowns decorated with prints and decorations that evoked the traditions of the temple. The scene looked as if a sky lantern were magnificently flying in the sky free as a bird.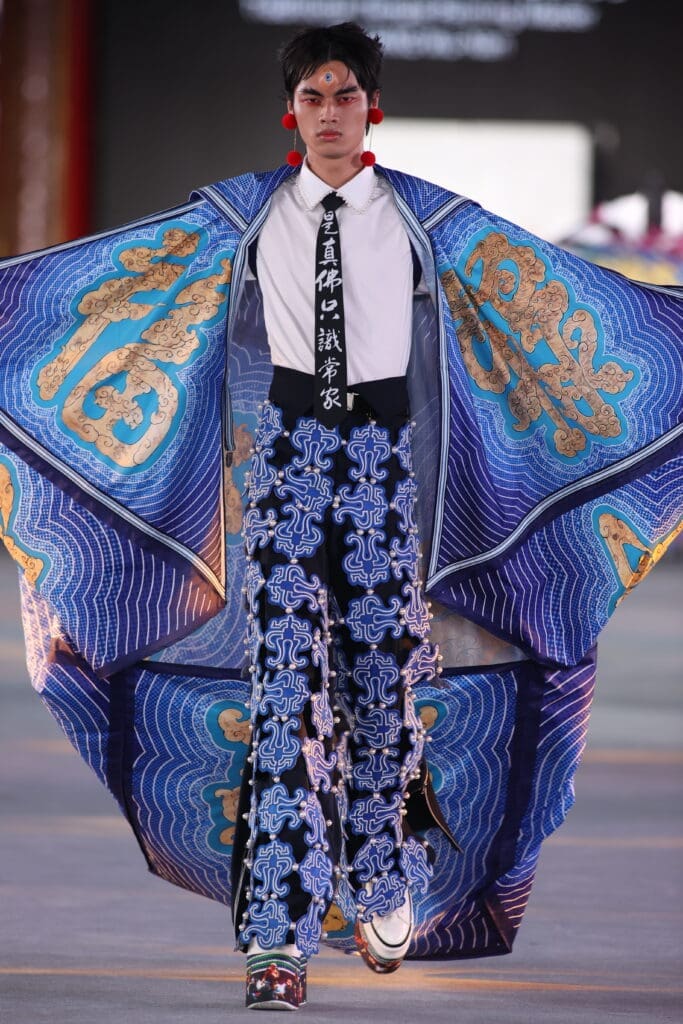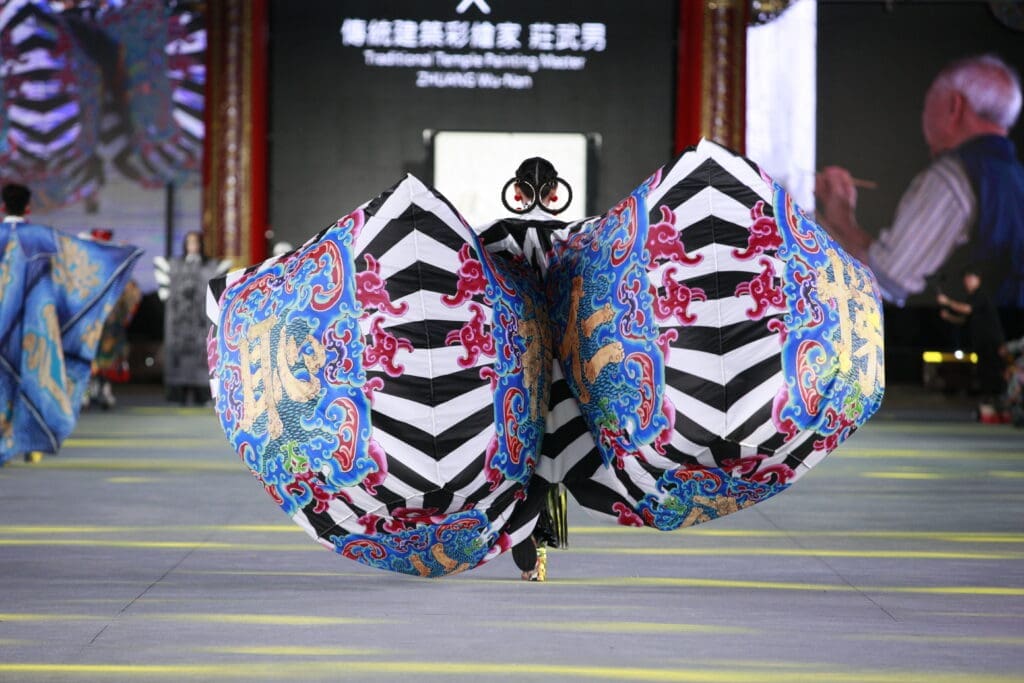 The collection of YEN LINE and Paper Sculptures – CHEN I-Chang is a joint creation of the crossover of paper sculptures and fashion design. It is presented by imitating the image of the dragon by using materials and tools including paper, hobby knives, fabric, and scissors. Many layers of sheer materials and ruffles that complemented the paper sculptures were prominent; creating a completely new interpretation of the "dragon," which is considered an icon of folk costumes.
At the show collaborated with GIOIA PAN, known as the "Queen of Textiles," and Taiwanese opera master Mei-Yun Tangu, a huge truck appeared in the square once again. As both sides of the truck's body opened, the performance of the Taiwanese opera by Mei-Yun Tang began. As it got close to the second half of the Taiwan Opera, the models who had been standing side by side during the performance got off the back of the truck and started to walk down the runway. They appeared in formal looks with suits, blazers, and vests in a mix of jet black and bright red. A number of vertically cut fabrics were attached to the skirt and blazer in such a way that they hung down and swayed as the models walk, adding a sense of lightness to the stiff impression.
The last collection of the opening show was a collaboration between C JEAN and lacquer artist WANG Ching-Shuang, a living national treasure over 100 years old. The brand has created a secondary version of Mr. Wang's work, reproducing the lacquer craft of "maki-e" in fashion. Each look is decorated with artwork that took months of work by Mr. Wang, creating a one-of-a-kind worldview. Particularly eye-catching were two gold-colored dresses that appeared in the second half of the show. Both were decorated with layers of large ruffles, emphasizing the three-dimensionality of the dresses that swayed as they walked and graced the finale with an overwhelming sense of presence.
The brand's creative director Chun Yuan Jean, shared her thoughts about the collaboration with Mr. Wang with the OSF as follows.
"It is very difficult to explore and master one thing with one's whole life, and I feel that there are so many people today who have given up on it. Mr. Wang is an artist who has been single-mindedly devoted to lacquer painting since he was a young man. I am very happy to be able to work with such a wonderful person to create works for the collection, and I have great respect for his attitude toward creation as an artist."
After all the brands finished presenting their collections at the opening show, a graceful musical performance was played by award-winning violinist Richard Lin and pianist Liao Pei-chun as fireworks were set off in the night sky of Tainan. All the spectators who were there must have been fascinated and moved by its beautiful performance and the massive fireworks show. It was truly an outstanding opening show.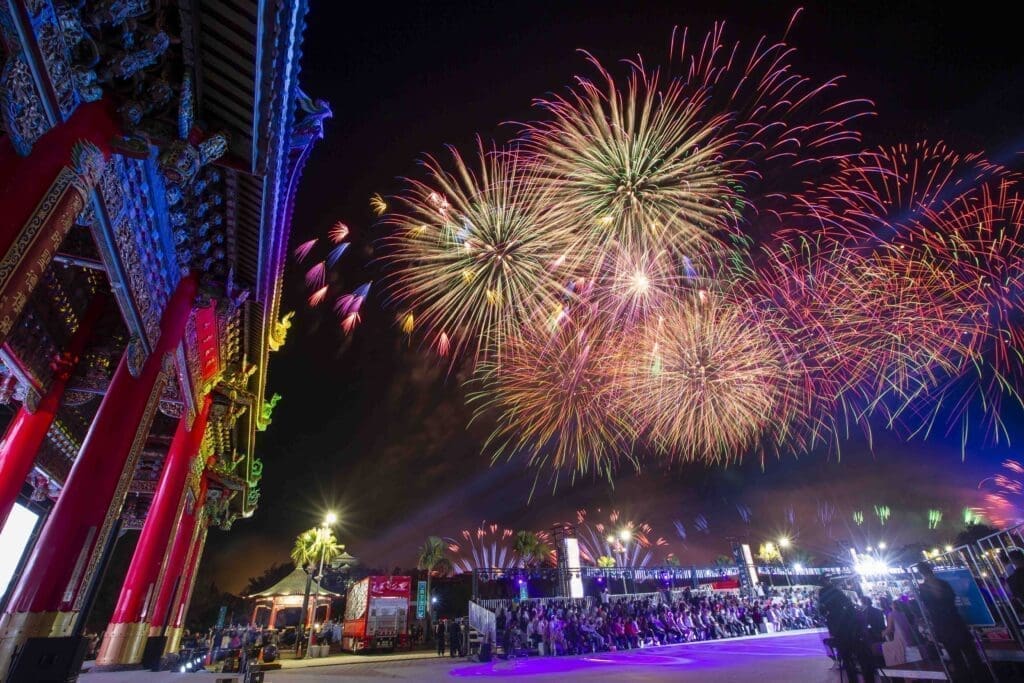 Sustainable show by Taiwanese textile manufacturers and brands
Another highlight along with the opening show was Asia's first "Sustainable Collections" which took place on March 24. Taipei Sustainable Collections was a one-day group show centered around sustainability that brought together 6 designers brands: DYCTEAM, OqLiq, PCES, SYZYGY, UUIN, WEAVISM 織本主義, and Taiwan's top textile manufacturers for a creative fusion of fashion and innovation. Each brand collaborated with a Taiwanese textile manufacturer and presented a total of 12 pieces at the show. The sustainable collection featured clothing made from fabrics developed by Taiwanese textile makers using a wide variety of eco-friendly materials, including recycled fabrics with carbon capture technology made from marine waste and plastic bottles, and cotton fabrics made from recycled factory scraps.
Among them, WEAVISM 織本主義 has partnered with a Japanese video game company Koei Tecmo Holdings, to present collaborative items inspired by the game "Wo Long: Fallen Dynasty." The brand creative director Tony explained, "like in the games, every apparel will eventually face death, be it buried or incineration; however, there is a possibility of recycling and reuse."
"This reminds us of the burying beetles from nature, which is known for cleaning up corpses," "by applying the eco-friendly fabrics of Everest Textile which are made from recycled PET bottles, and recycled cotton from factory wastes, VEAVISM manages to manifest the silhouette and sustainable spirit of this insect." He added.
What Taipei Fashion Week aims to achieve
Taipei Fashion Week is organized by the Ministry of Culture and produced by the Taiwanese Condé Nast Group CNX Taiwan.
In other countries, each fashion week organization operates its own fashion week. On the other hand, in Taiwan, the Ministry of Culture has taken the lead in organizing Taipei Fashion Week and the whole country is making efforts to nurture Taiwanese designers. Each season, the Ministry of Culture provides support to brands selected from the competition to participate in Taipei Fashion Week; from the production costs of the collections to the actual costs of holding the shows.
Deputy Ministry of Culture Vice Minister – Mr. Lee Lien-Chuan(李連權)stated that since Taiwan is a multicultural and multiethnic society influenced by many different countries, they would like to raise the global profile of diverse designers who can express different cultures and convey Taiwan's one and only appeal to the world.
He also explained his further vision that Taiwan also has a thriving textile industry which is one of its strengths, and through the power of fashion design, so they hope to make more people aware of the eco-friendly fabrics made with their country's cutting-edge technology.
Following in the footsteps of Tokyo, Seoul, and Shanghai, it will not be long before Taipei Fashion Week takes off and rise in popularity as brands and designers from Taiwan will make their mark on the world.
Following the opening show and sustainable collection, 12 brand shows and 3 student shows run from March 24 to 29 at the official venue, Songshan Cultural and Creative Park, and Taipei Fashion Week will officially continue through April 8th. For the latest updates and schedule about this season's runway collections, head to tpefw.com.
The official video of the Taipei Fashion Week opening show is below.