The Taipei Fashion Week Autumn/Winter 2023 collection was held in Tainan and Taipei, Taiwan from March 24 to April 9.
This season started with a grand "Opening Show" in Tainan, followed by Asia's first "Sustainable Show" in collaboration with a textile manufacturer, 3 student shows, and 12 brands' individual runway shows.
At the opening show, 7 brands presented collections created in collaboration with seven traditional artisans and organizations in the traditional arts against the backdrop of the"Nankunshen Daitian" Temple located in Beimen District, Tainan City; one of the oldest and most historically important temples in Taiwan with a history of over 300 years. In addition, six brands presented collections made in collaboration with Taiwanese textile makers at Asia's first sustainable show.
What image comes to mind when you hear of Taiwanese fashion brands?
In Taiwan, where various histories and cultures intersect and merge, inspiration for "making clothes" may be found everywhere in daily life. As a result, Taiwanese designers express their designs in a wide variety of styles. In recent years, an increasing number of brands have been presenting their collections at New York, London, and Paris Fashion Weeks with an eye on the international market as well as the domestic market.
The Taipei Fashion Week held in March 2023 saw a different approach to each brand's work and theme; From the unparalleled savoir-faire of traditional crafts inherited in Taiwan to real and virtual fusion collections that introduced cutting-edge digital technology, as well as contributions to sustainability with consideration for the natural environment.
In this article, OSF introduces some of the notable emerging Taiwanese brands we encountered during Taipei Fashion Week, along with the features of their latest collections.
Related article: Taipei Fashion Week Autumn/Winter 2023 | Presenting Taiwan's traditional arts, crafts, and sustainability to the world through fashion
【JUST IN XX】
Fusion of traditional crafts and high fashion by a "Crossover Prodigy
When OSF interviewed people from the Taiwanese fashion industry, "Which designer brand represents Taiwan?" the first name mentioned by many was "JUST IN XX."
JUST IN XX was the first Taiwanese designer brand to participate in New York Fashion Week and has already done so six times in the past.
The brand's creative director Justin, Yu-Ying CHOU was named one of NYFW's Best of Talents 2020 by Vogue Italia in 2020 and received 3rd place in the FASHION NOW Global Emerging Designer Competition held by ELLE Magazine France. Other achievements include designing the official uniforms worn by the Taiwanese national team at the opening ceremony of the 2021 Tokyo Olympics and collaborating with global brands such as Nike, UNIQLO, and Levi's.
The brand presented a street punk style collection created in collaboration with Traditional Temple Painting and living national treasure, ZHUANG Wu-Nan at the opening show of Taipei Fashion Week.
CHOU said he got the inspiration for the collection from "the fantasy experience when a group of junior high school students went to a temple to worship sky lanterns and accidentally became possessed by the gods," and expressed the creative storyline he envisioned in his fashion. The "student look," "temple paintings and architecture," and "elements that teenagers' favorites" were all crossed to form a single unprecedented worldview.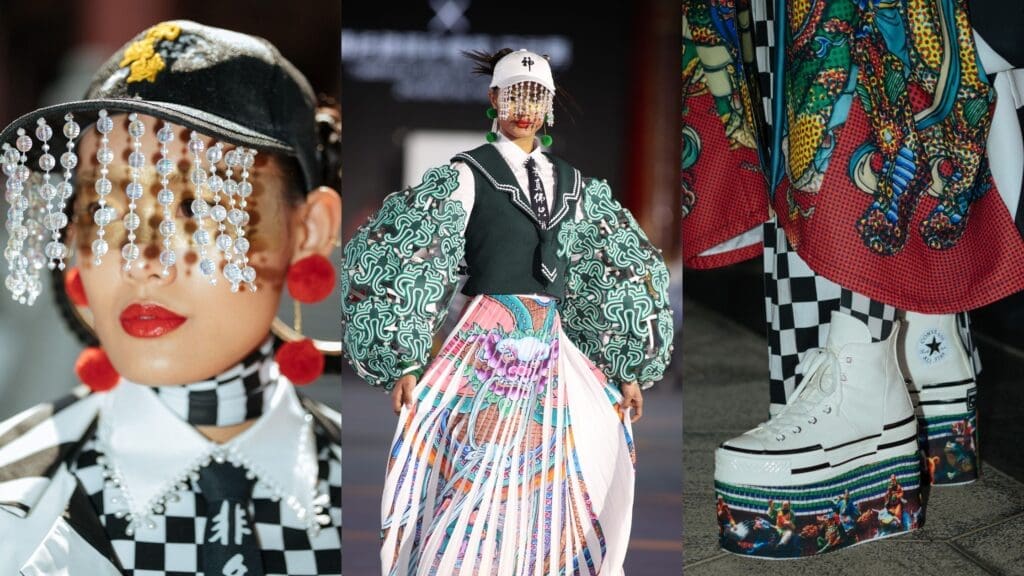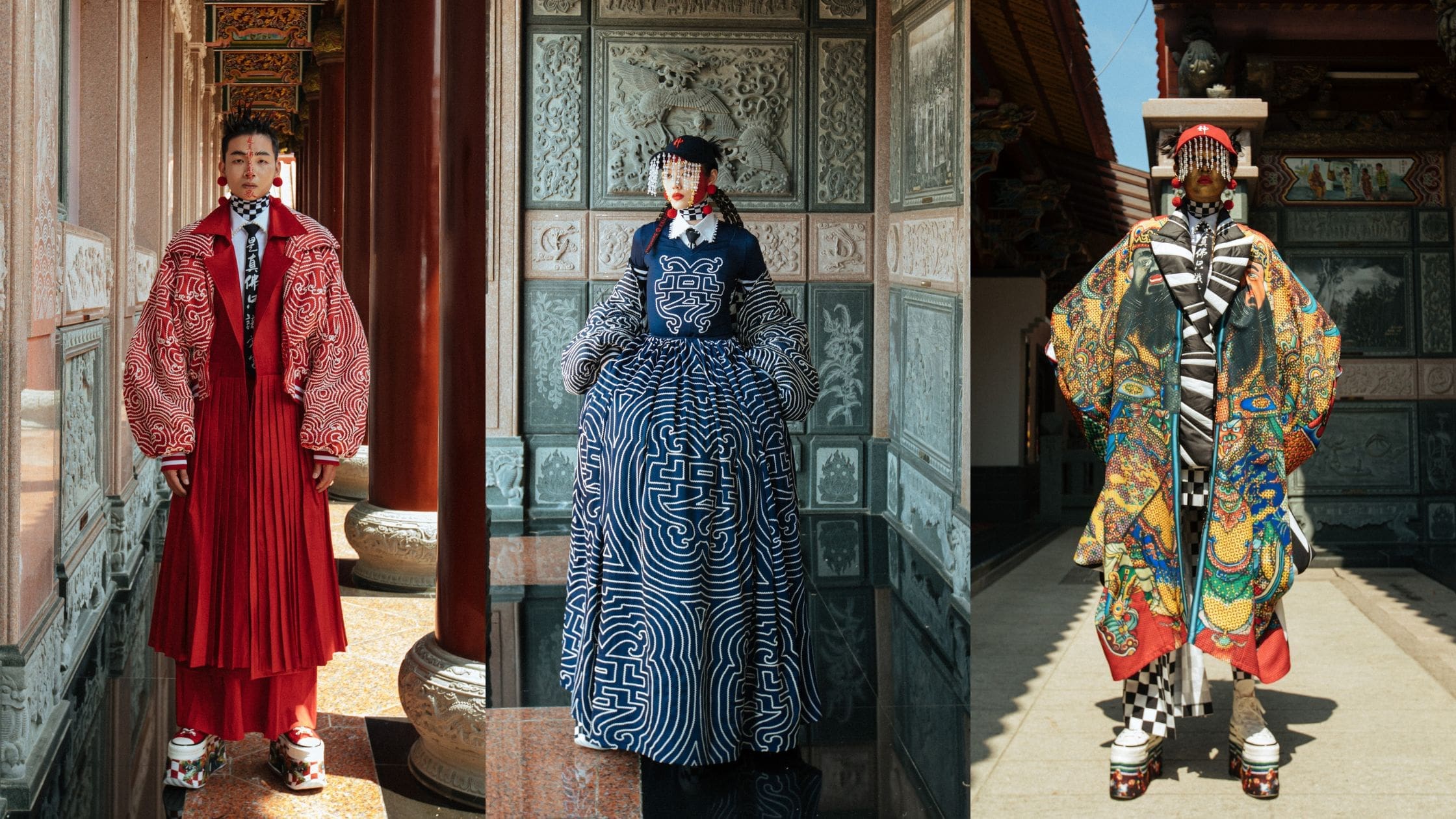 Not only in this collaboration collection but also in the RTW collection that JUST IN XX launches every season, there are artistic pieces that wowed people. The philosophy of JUST IN XX is to create unique patterns, graphics, and playful details in silhouettes with a twist. The collection combines high fashion, craftsmanship, culture, and sustainability, and is aptly dubbed the "Crossover Prodigy."
The brand plans to launch another collaboration line with UNIQLO in October 2023, so keep an eye on JUST IN XX in the future.
A modern twist on an old traditional beauty, Expressing its outlook on life through fashion
C JEAN was another brand that expresses Taiwan's long-standing craftsmanship with a modern twist.
At the opening show, the brand presented a collection created in collaboration with WANG Ching-Shuang, a lacquer craftsman. Mr. Wang is a Taiwanese lacquer craftsman who is now 101 years old. The rich and multi-layered lacquer paintings he creates using the intricate "Taka-Maki-e" technique are known as unique and one-of-a-kind.
The brand's creative director Chun-Yuan JEAN sketched the silhouettes of the clothes, delved into pattern design, and incorporated concepts such as the symmetrical structure of Wang's work and Nankunshen's temples, front and back overlays, and fingerprint prints to express Wang's "high relief Laquer" technique and unwavering spirit were expressed in his works. Wang's study and mastery of crafts were reflected in the collection as he used techniques such as embroidery, beading, flower matching, and die-cutting, as well as the process of lacquering.
C JEAN showcased a dazzling array of elegant pieces that radiated a golden glow as the final brand of the opening show. The jackets made of shiny materials and gold-colored fabrics were decorated with majestic artworks such as peacocks, carp, a giant Buddha, and giant waves painted by Mr. Wang, creating a one-of-a-kind worldview. The two golden-colored dresses that appeared in the latter half of the show were layered with large ruffles, and the three-dimensionality of the dresses, which swayed as the wearer walked, was accentuated, showing off an overwhelming presence.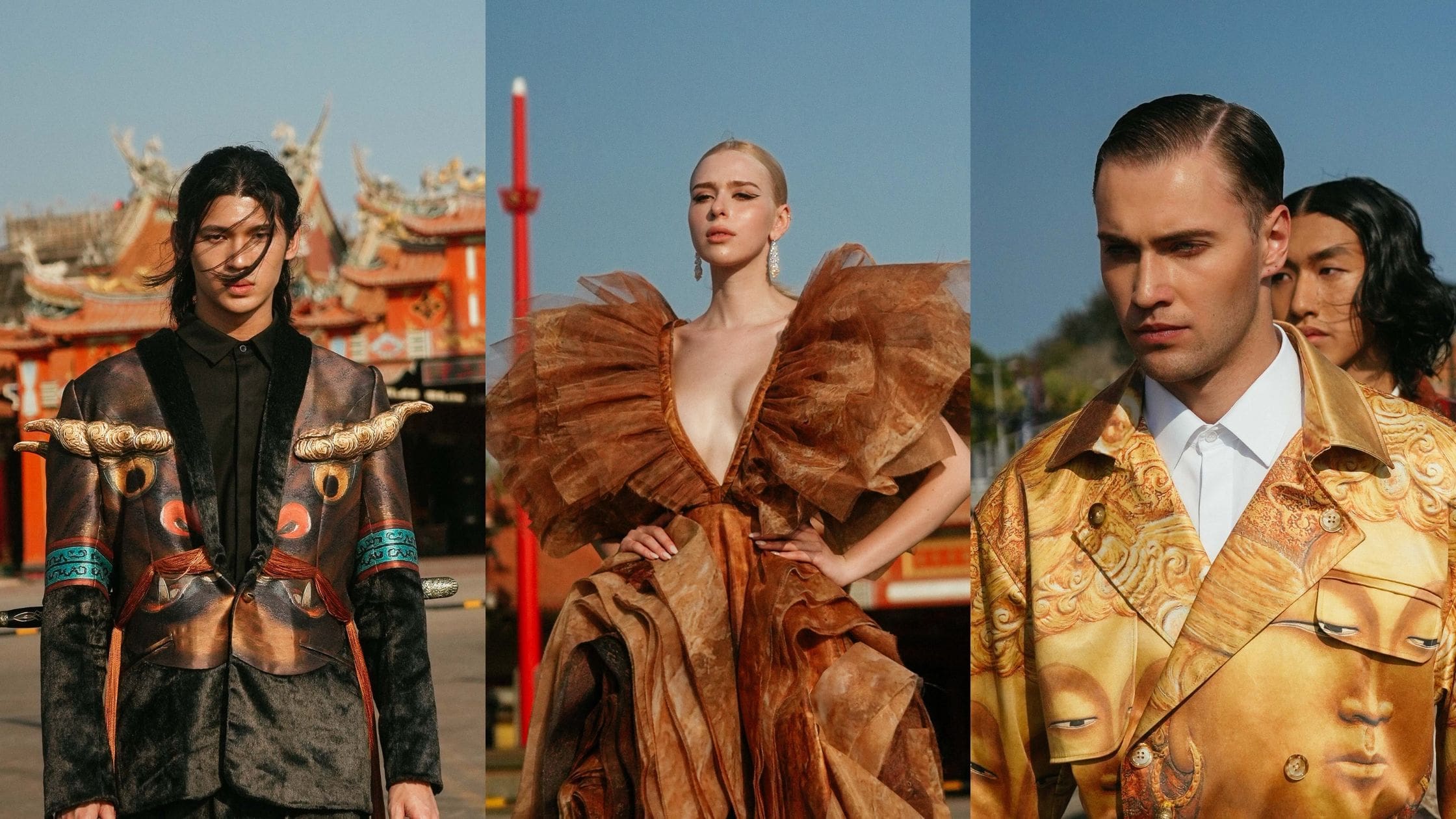 What is also surprising is that the production process of maki-e in this collection is still ongoing. JEAN pointed to a bag with maki-e on it that appeared in the show and said, "The maki-e here looks finished, but actually it is not finished yet. Mr. Wang will continue to add designs to this work, and the work will continue to change. At this point, there is nothing definite that this is the finished product."
Each piece is made with the spirit of C JEAN, a brand that values craftsmanship, time, and emotion. The brand is also sensitive to the inspiration it draws from nature, which it often expresses in its regular RTW. At the same time, the brand is known for throwing out socially conscious messages such as feminism and sustainability through its clothes.
【Claudia Wang 】
A phygital approach and Y2K fashion that captures the hearts of Generation Z
Claudia Wang is an up-and-coming brand that fuses the real and digital worlds into a new virtual approach.
The brand's creative director Claudia Wang is also a beauty creator herself, and her artistic make-up on Instagram has garnered support from Generation Z.
Born in France and raised in an artistic family, Wang is an artist specializing in the use of aesthetic art and virtual technology in fashion design. She is constantly exploring the fusion of culture, technology, and process, as well as different approaches to sustainability. This exploration has led Wang to pioneer the use of virtual technology to create special typography that influences the impression of a garment and to realize the first online virtual show using 3D virtual technology.
On March 25, the brand unveiled a futuristic Autumn/Winter 2023 collection at Taipei Fashion Week that condensed the rapidly changing trends of the world.
The show began with a presentation of the brand's collections on a nostalgic computer screen reminiscent of the 1990s, followed by a parade of animal avatars wearing the brand's looks in a virtual world. Then human models appeared on the runway and the physical show began.
Each look is filled with pop and playful designs such as hand-drawn heart patterns, flowers, and dots in pink. The concept is diversity and tolerance without being limited by gender or body shape. The long coats, jackets, and dresses that combined fleece prints and the brand's classic plaid patterns reflected the vivid colors and sense of style that Wang usually shares through social media, and numerous Y2K looks were developed to match the times.
The collection titled "Civilization of Love" seemed to express the various forms of love which the brand has arrived since the birth of Claudia Wang in 2019, through the Covid-19 pandemic after 2020, the digital fusion that occurred between 2021 to 2023, and the transition from Web 2.0 to Web 3.0.
Minimalism in pursuit of wearability and functionality
OqLiq, founded by Taiwanese designers Chi Hong and Orbit Lin, is known as a high-end yet highly functional brand.
On March 26, the brand held a runway show for presenting its Autumn/Winter 2023 collection at Taipei Fashion Week. The show featured a live performance by the band group Molly in Mountain, embodying an apocalyptic worldview.
The brand's theme for this season's collection was "Aura Protection." They expressed the concept of clothing acting as an invisible energy field to protect the body. The first half of the show featured earth-colored looks such as green, gray, blue, and orange, while the second half of the show featured all looks in black.
Each piece looked simple and unadorned at first glance, but the details of Taiwan's unique culture were sprinkled, and concepts such as origami, deconstruction, and yin-yang duality were reflected throughout. The unique style that fused oriental simplicity with street fashion showed OqLiq's aesthetics that outdoor fashion "does not end with mere functionality."
OqLiq is also active in promoting the Taiwanese fashion brand to the world. The brand has presented collections not only at Taipei Fashion Week, but also at international markets such as New York, London, and Shanghai Fashion Weeks.
Designers Hong and Lin said that they hope to create a brand that will make consumers proud to wear MIT's Taiwanese fashion and expand globally.
The brand also participated in a sustainable show on March 24. There, the brand presented a collection using recycled fabrics made from marine debris developed by Everest Textile Co. with cutting-edge technology.
Ethically conscious collection with respect for nature
The ethical-conscious collection, which calls for the preservation of culture and consideration for the environment, was presented by INF, known as a fashion brand that specializes in structure, cutting, and pattern.
The brand's Autumn/Winter 2011 collection was held on March 25, and themed on "AMA," women who dive into the sea to gather seafood. At the venue, an immersive set was created to make the audience feel as if they were in the deep sea, and a soft white cloth was hung in the middle of the runway, on which wave patterns were projected.
The brand stated below the reason to feature this theme.
"We continue to squander the resources nature has given us, but there is no second Earth. To protect the ecosystem and the survival of marine life, Ama is people who believe that harvesting only what is truly needed and respecting the ocean is a mutually beneficial and sustainable way of life."
"Today, the existence of the few Ama who survives is considered an anachronism due to the huge economic profits, but in Taiwan, Ama culture has not been given the status of cultural assets, and with the introduction of diving equipment and new technology, as well as the shrinking marine resources, the ama culture from this small island, Taiwan, will soon be relegated to history,"
Each look was presented in black, gray, and light blue, a color palette reminiscent of the sea. The prints, which were the focus of the collection, projected shimmering wave patterns, further enhancing the cutting of the slightly oversized, loose-fitting garments and the gathers of detailing. Accessories such as hats and cuffs, featured several stylish and functional items that incorporated fashion while retaining their practical benefits.
The black hat inspired by an Ama coming out of the sea, had a ribbon at the chinstrap and combined with the mysterious atmosphere of the model, created a gothic style.
The collection also appealed to environmental protection by showing a fusion of beauty and evil, using yarn made from recycled plastic bottles for fabrics in the collection and employing common marine debris, fishing nets, plastic bottles, and bottle caps for hair accessories and some fashion items.
INF has a long-term vision for sustainable practices, focusing on the use of recycled materials and extending the life of garments as life wear.