The number of companies that are strengthening their sustainable efforts in order to protect the global environment is increasing year by year, and plant-derived "vegan leather" is more known as an environmentally friendly fabric material.
Vegan leather has less impact on the environment than natural leather and synthetic leather, so that is also considered an alternative material to leather for its animal welfare. Among them, It's "mushroom leather" made from "mushroom" that is currently being adopted by many high-end brands.
What is Mushroom lather?
What is mushroom leather in the first place? Mushroom leather is vegan leather made from powdery root-like filamentous tissue "mycelium" by mushroom fungi. Mycelium is a network of filamentous roots in mushrooms, a tissue that corresponds to the root part of plants. It is fibrous and has a delicate, fluffy, and soft appearance, however, it is also highly durable enough to withstand friction. In addition, it has the feature of a soft and warm touch compared to synthetic leather that uses plastic. Therefore, mushroom leather is said to be comparable to natural leather not only in appearance and texture but also in quality itself.
When it comes to "vegan leather", there are vegetal alternatives that include cowhide-mimicking materials made from things such as cactus and apple peels, but the strength of "mushroom leather" is not only that.
Fungi are manifested to be a potentially feasible alternative because mycelium, which is mushrooms' filament-like root network, spreads beneath the forest floor and under the bark of trees in nature. Those fine mycelial threads are as sturdy as leather: Because their cell walls contain chitin, a hard polymer also found in shrimp shells, it will be a very strong material as they grow.
Since the mycelium grows in about two weeks, it is possible to create materials with high efficiency. Therefore, it requires less energy to manufacture and it has a "low impact" on the environment. At the same time, unlike animal-derived leather, the shape is standardized and more controllable, so it is easy to process.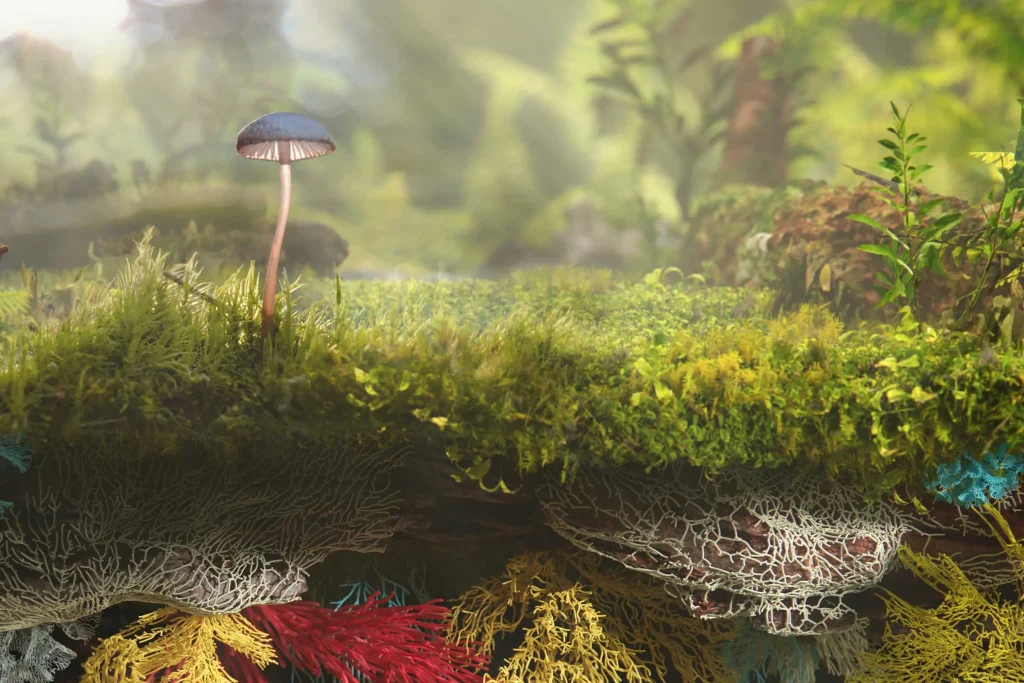 Even though there are several companies in the United States that are producing "mushroom leather" as an alternative to animal-derived leather today, two of the most notable startups in the U.S. are biotech firm MycoWorks and Bolt Threads.
MycoWorks' mushroom leather "Reishi" incorporated by Hermès
Biotech company MycoWorks is known for developing a proprietary material called Reishi with its patented technology Fine Mycelium, which turns mycelium into leather.
In 2021, the French fashion house Hermès became the first public brand to partner with MycoWorks, and that move gathered attention in the fashion industry. They released a travel bag "Victoria" made with Sylvania, another mycelium-derived material in cooperation with MycoWorks.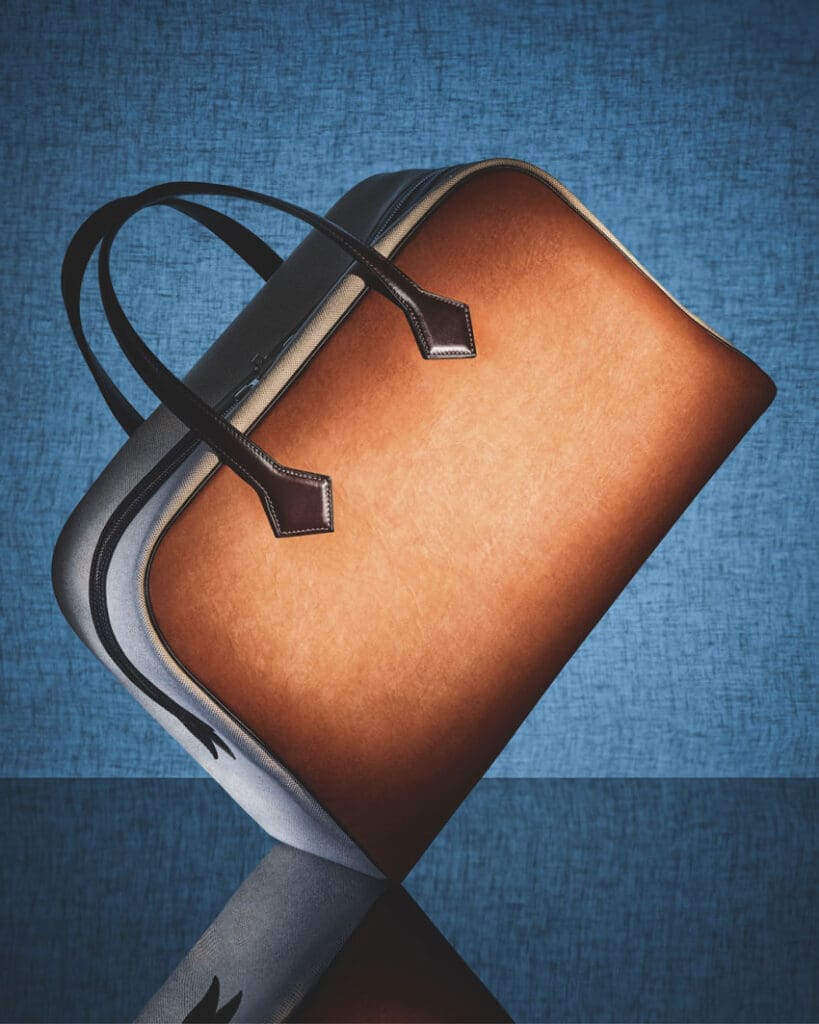 Also, a famous hat designer Nick Fouquet announced the "Boletus bucket hat" using MycoWorks' "Reishi" on July 18th. The hats were released at $810 and sold out quickly. According to Bloomberg, when the designer first received the first sheets made by "Reishi", he was so excited that he was able to make the hat within 24 hours. Fouquet who studied environmental science and sustainable development before taking up hatmaking said "Finally being able to incorporate it into my field is a bit full circle for me."
MycoWorks successfully raised $125 million in funding from multiple science-focused venture capital firms in January. In August, investing that funds, the company began building its first manufacturing facility, a 150,000-square-foot plant in Union, S.C. It is scheduled to be completed by the end of 2023. Once completed, the new factory allows the production of the "Reishi", previously limited, more than 1 million square feet annually. The company has already received thousands of inquiries from potential customers following the expanded production, and they plan to collaborate with more brands in the future.
In general, plasticizers are often used in textiles to increase their durability and flexibility, but MycoWorks' "Reishi" takes a completely different approach. Matthew Scullin, MycoWorks' chief executive, explained that as the hypha grows, it can embed with a fabric such as cotton, giving it different properties.
He said, "We can tune things like the drape, softness, or feel because the fabric helps to coerce the mycelial cells into entirely new structures—not like naturally occurring mycelium that you find in the forest and not like the fabric. It comes out as a unique product."
Bolt Threads partnered with Tsuchiya Kaban Seisakusho in Japan
Also known as the spark of the mushroom leather boom is "Mylo," a new mushroom leather material manufactured by Bolt Threads.
In July, sustainable fashion pioneer Stella McCartney used Mylo to launch a shoulder bag called "Frayme". Originally priced at $2,950, it now sells for $3,500.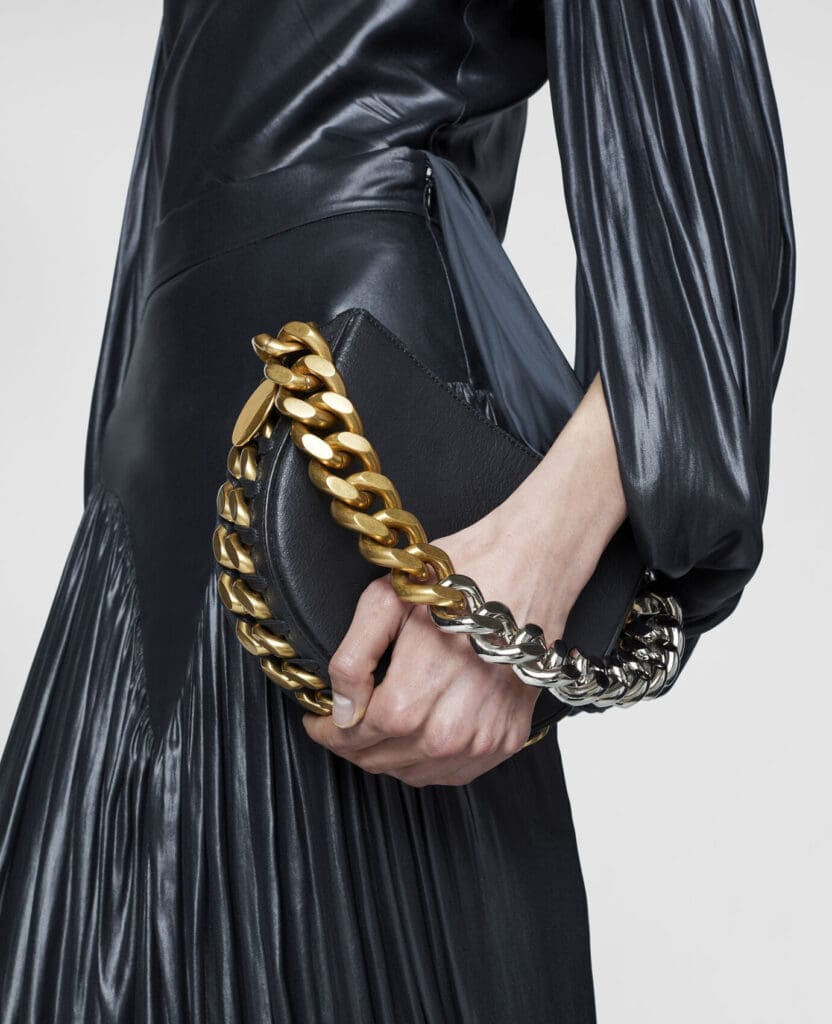 Mylo, a material developed by Bold Threads, is characterized by a softer and more flexible material than other companies' products and has a track record of adoption by high-end brands such as Adidas, Kering, and Lululemon in addition to Stella McCartney.
In addition, they announced a new material model through a business alliance with Tsuchiya Kaban Seisakusho in Japan in June. Tsuchiya Kaban Seisakusho has been a representative example of traditional Japanese craftsmanship, producing leather goods since they were founded in 1965. Compared to the four major companies with which "Bolt Threads" are partnered, Tsuchiya Kaban Seisakusho is a smaller company. However, the fusion of craftsmanship that has been handed down in Japan at Tsuchiya Kaban Seisakusho and the innovation created by Bolt Threads will undoubtedly increase the demand for products using mushroom leather in the Japanese market in the future.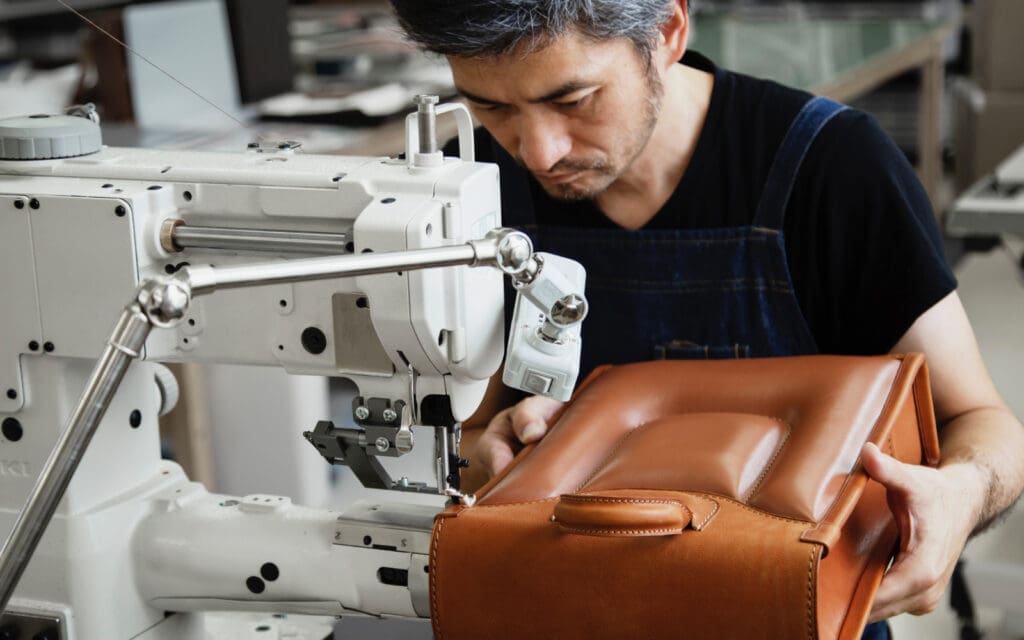 Growing demand for vegan leather and expected issues
According to US consulting firm Grand View Research, the global market for synthetic leather materials is valued at $33.7 billion in 2021 and is expected to expand at a compound annual growth rate of 8% until 2030. Also, the bio-based leather market, which contains only natural materials, was estimated at roughly $650 million in 2021 by Polaris Market Research. However, Frank Zambrelli, a managing director at the consulting firm Accenture, says these estimates may be too low if accurately reflect the market and consumer interest in the category, technological advances, and product quality.
Furthermore, Mr. Scullin said that there is also a big opportunity in the automobile industry, as automakers use the second largest amount of leather after footwear. He explained that inquiries from automakers about "mushroom leather" surged last year as automakers began to bring new electric vehicles to market.
While many companies are moving to mass-produce new materials in response to this increased demand, on the other hand, new problems may arise. Mushroom leather, for example, is a biodegradable biomaterial, but there are cases where synthetic materials are incorporated into the mycelia, so the final disposal of used products is said to be a problem.
There may still be a lot of uncertainty about how the large-scale development of mushroom leather will affect our environmental footprint in the future.